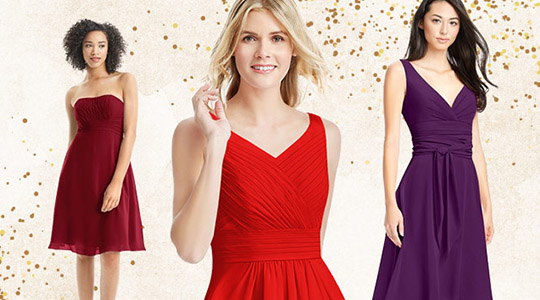 Shop Affordable Bridesmaid Dresses
Chic dresses that fit your budget!
Find an affordable bridesmaid dress under $100
On a tight budget? Nervous about how much a stunning dress will cost you? There's no need for stress or worry because, Azazie understands that looking chic and flawless shouldn't have to cost you an arm and a leg. It should be affordable. With that in mind, we have designed an abundance of fabulous dresses that are affordably suited for every budget.
Whether this is your first or third wedding that you're attending as a bridesmaid, you can get a beautiful dress online that both flatters your body type and is inexpensive to purchase. Finding the perfect dress at an affordable price is simple when you shop with Azazie. From Coral to Emerald and Lilac, we have endless color options of dresses with a multitude of styles and fabrics to choose from. No longer are you limited to only a handful of budget options. We have over twenty different bridesmaid dresses that give you a limitless selection.
We keep our affordable dresses fashionable and in style so you can feel confident and look sensational without breaking the bank. For the brides or bridesmaids that prefer the wedding party to be more modest, we have an extraordinary selection to choose from. And of course for those that are expectant mothers, we also offer dresses to suit your looks and needs.